18.07.2016
South Tyrol's South flourishes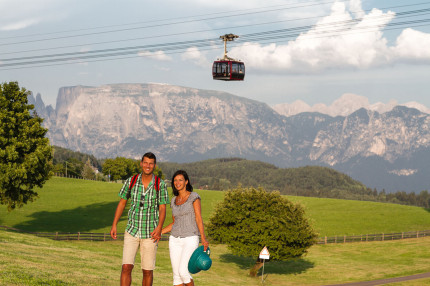 Enjoy a spring hike through the charming South Tyrolean apple blossom or wedel through the South Tyrolean mountain world during a sunshine skiiing.
The holiday experience par excellence: hover with the modern cable car in a few minutes from the mediterranean Bolzano with its romantic alleys, chic boutiques and typical Italian restaurants up to the sunny plateau of Renon.

South Tyrolean spring hits
• blossom trail in the gardens of Trauttmansdorff Castle or in the spring valley between Montiggl and Caldaro.
• bike trips through Alto Adige with Renon as a central starting point.
• the South Tyrolean wine road with Lake Caldaro
• enjoy an Italian cappuccino in the state capital of Bolzano or in the spa town of Merano
• relaxing walks on the beautiful Renon promenades, the Keschtnweg and other hiking trails with a divine view
• day trips to nearby Lake Garda or to the unique Venice

Breathe the crystal clear air, feel the freshness of spring, enjoy the warming sun and be inspired by the birdsong.